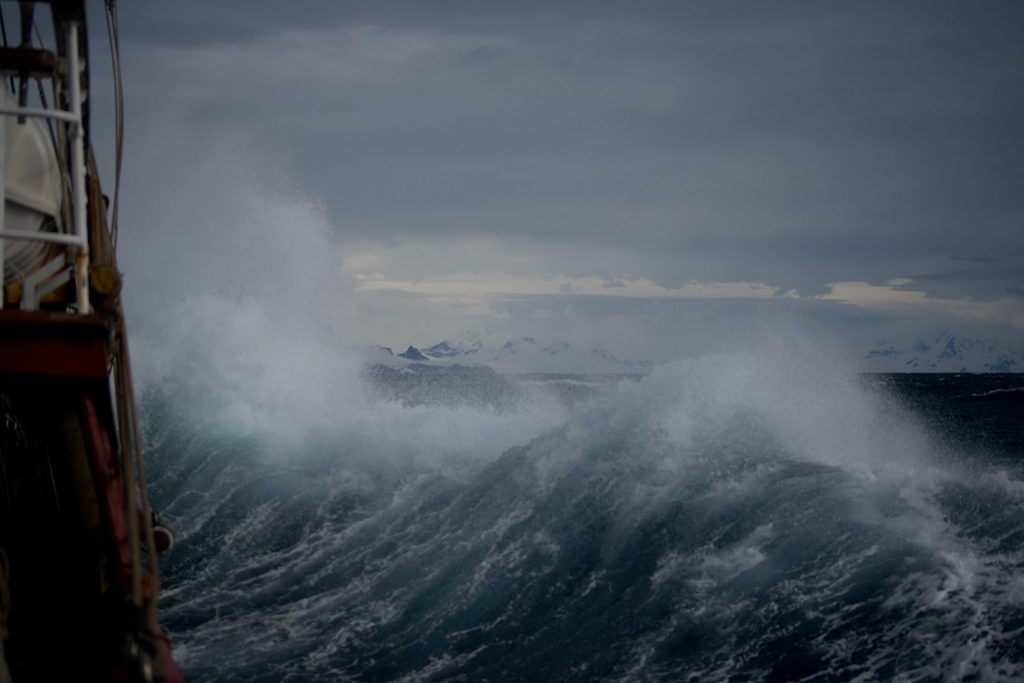 Trinity 3 (Father's Day)
Sermon by By Reverend Matt Harbage
Readings:
I wonder if you've watched "Trawlermen" on the BBC. My dad introduced me to it when I was visiting my parents a few years ago. It's a documentary following some incredible fishermen, risking their lives to bring in the catch.
With the rain lashing down, and waves coming across the deck, (coving the camera lenses) these sailors just get right on with the job of putting out nets, drawing them in and filling the ship's hull.
Visibly calm in the face of the elements and the apparent danger.
They move as a team, with the confidence that they know what they're doing, each of them having the other's back.
That's today, but the challenges were the same 2,000 years ago. The ocean is awesome: both beautiful and to be respected, much like God. The source of life, and the site of incredible, untameable power.
On the boat with Jesus in our gospel, we have the 12 disciples, many of them experienced fishermen and this storm scared even them.
So when Jesus stands up – and – with a word, calms the chaotic wind, and settles the sea with a look, what a reaction he gets from the disciples:
"Who is this then, that even the wind and sea obey him?"
AT this moment, the translation we use on a Sunday morning said the disciples "were filled with great awe" but here I don't think the translation quite captures the meaning of the Greek original. The Greek words are "megas" and "phobon" where we get the word phobia. So literally: The disciples had "mega-fear" when Jesus, this apparent superhero, stilled the storm.
It's like a scene from X-Men or a Marvel comic. The mighty power of the seas, subdued by someone even mightier.
The question the first disciples asked is the same question we must answer today:
"Who is this then, that even the wind and sea obey him?"
Who do we believe Jesus is? In the Confirmation class today, we're going to explore the mystery of the Trinity: God revealed to us as Father, Son, and Holy Spirit.
Could this Jesus, be the Son of the Father? God in human flesh?
In moments like this one on the sea of Galilee, Jesus' power is revealed. The power of the Son of God: Bringing peace to chaos. But there's also a second kind of power on display too, as Jesus shows us God's gentle compassion, as Jesus gently leads his disciples into a deeper trust and a new kind of peace.
I think therefore this passage has an important truth to teach us today, about trusting in God.
Take a moment to think about your own storms. Maybe you're in one right now. A storm of depression or tiredness. Of debt or uncertainty. Maybe your prayers recently have echoed the disciples' words: "God, do you not care that we are perishing?"
On Monday I spoke at a local conference organised by the Barnet Multifaith Forum. Myself and other faith leaders were speaking about the environment and how our faith traditions call us to action.
Reflecting on climate change can be like looking ahead to a massive storm on the horizon. It can be terrifying and overpowering. But there are signs of hope too: God has a purpose for this earth, and we have a part to play. We do not face these forces of chaos and extinction on our own.
I wonder where you are at the moment in life: In a storm, or worried about one coming over the horizon, or maybe you find yourself enjoying a moment of calm and tranquillity – (I was hugely blessed with a moment like that on my retreat the other week. A time of peace.)
Wherever you are, in peaceful, uncertain or stormy waters, Jesus is with us in the boat. He has the power and the compassion to take care of us.
The Bible teacher Sheila Walsh puts it beautifully like this:
"Whether Jesus calms the storm or calms usin the storm, His love is the same, and His grace is enough."
Jesus, in calming that actual storm, reveals to us that God has the power to do anything. He can bring order to chaos, bring hope to despair, bring peace and calm to the most challenging of situations.
But as Sheila reminds us, rather than take away the storm, sometimes God simply gives us what we need to live through it –
It's been like that with COVID hasn't it. Christians haven't been protected from getting COVID. But God has been with us, and continues to be with us, in the storm.
Today is Father's Day. For some, like Mother's Day, it's a mixed day remembering fathers who weren't present, or we wish weren't present.
Fathers who we miss, and wish were still here with us.
But in these pains, we mustn't lose sight of the vision of fatherhood which God offers us. Our Heavenly Father, as Jesus taught, knows what we need and loves to give good gifts to his children.
Our Heavenly Father cares for us, and is always there for us. No matter what – He might not take away the storm – but he will give us all we need to get through it. –
His grace, is enough.
So, as we prepare to gather around the Lord's Table in the Eucharist, bring with you your "mega fear" if you are finding yourself in the middle of a storm.
And if you're fearful about what's on the horizon, the uncertainty and the like, bring that with you.
And if you're at peace, and full of calm, bring your thankfulness.
Because God is big enough to receive our biggest fears, biggest doubts and biggest pains. If he can calm the mighty ocean with a word, let him speak a word over you.
For he is your father, and loves you.
Amen